Building a new Karate Research Club in the town of Wakasa
Okinawa Times, 31 January, 1926
Collection of Shinji Miyagi, Okinawa Prefectural Library
Translation by Naoki Motobu and Peter M. Kobos
Mr. Motobu and Mr. Miyagi building a training hall to spread the art of Karate.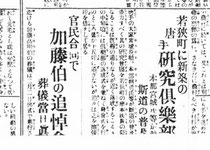 As we have already reported, the great experts in karate, Chojun Miyagi and Choyu Motobu etc., are constructing a research hall in the rear of Mr. Kishimoto's house in Wakasa, to spread the art of Karate.
The construction will be completed shortly. In mid-February, a celebration will be held, both for the inauguration of the club and for the completion of the hall. Although the hall is only 15 tsubo (ca. 50 m2), a future expansion is planned. 
** Please note: due to several missing words in the original article, supplementary words have been added as fillers to maintain the original meaning.